Sickle Cell & You
Living with sickle cell takes an incredible amount of courage and strength. It's good to remember that you are not alone. Together, we all can spark change for sickle cell and help shift the current misconceptions that make the experience of living with sickle cell more challenging than it should be.
"So many people with sickle cell are very strong and resilient, and we put on a brave face, but this is like one hell of an illness. It's very painful, it's very heavy, and it's taxing mentally. I wish people wouldn't look at us and assume that, oh, it must not be that bad."
—Shamonica, Living with Sickle Cell
Managing symptoms of sickle cell can be challenging and affect many different aspects of your life. There are times when you may be able to navigate your personal life, work, and treatment commitments without an issue. However, sometimes sickle cell can make it difficult to manage day-to-day tasks. Support from your
sickle cell care team
and your community can make all the difference when it comes to managing sickle cell.
Remember that
your voice matters
—and it's important to be open and honest with your care team. People with sickle cell may choose to remain silent or be very selective when talking about their disease to avoid potential judgment or misunderstanding. It can be difficult to make your voice heard when experiencing pain and unpredictable complications on a daily basis. But sharing how you feel with your care team can help you get the support you need.
Building a Better Future in Care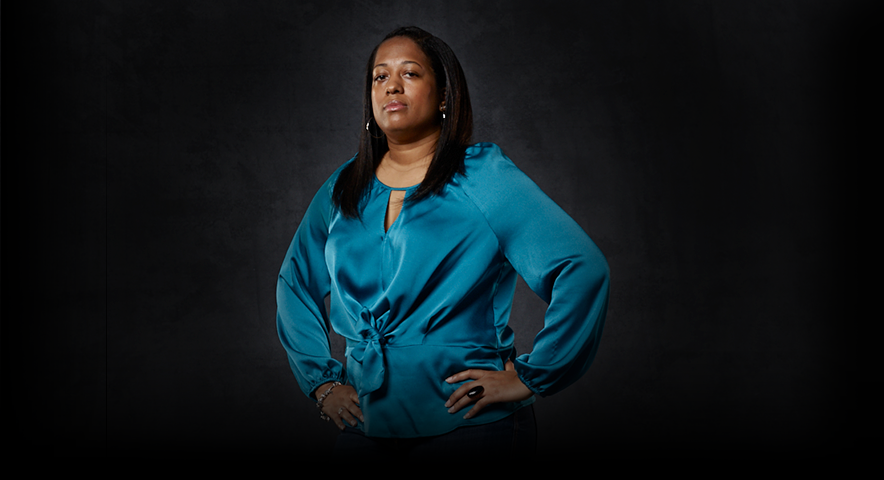 Sickle cell disease is an invisible disease.
From the outside, looking at someone, you'd think they were lying. It's easy to take it at face value and just look and say, well, you look fine."
Sickle cell disease is an invisible disease. From the outside, looking at someone, you'd think they were lying. It's easy to take it at face value and just look and say, well, you look fine."
TALANA
Parent
The Stigma of an Invisible Illness
It has been shown that the stigma associated with sickle cell from both the healthcare community and friends and family can lead to people with sickle cell not actively seeking medical care. This can affect your mental state as well as your body. You may be faced with difficult situations and negative reactions from family, friends, employers, coworkers, peers, doctors, and community members. There may be times where others may discredit your pain and accuse you of exaggerating illness and symptoms. This can create negative social experiences and cause feelings of anger, shame, anxiety, isolation, and sadness.
Know that these feelings are valid and that your voice is important. Speaking with a social worker, mental health professional, a member of your religious community as well as your care team can help you advocate for better care and get the conversation started.
The uncertainty of sudden symptoms and unexpected complications can cause further emotional stress and trigger physical effects, such as pain crises.
Psychological Impacts of Sickle Cell
Sickle cell can have psychological effects that may impact your quality of life. Frequent pain, hospitalizations, and absence from schooling and work can cause people with sickle cell to have feelings of low self-esteem and hopelessness. In fact, in a 2017 study of 142 adult patients with sickle cell,
over one-third experienced depression.
Opening up about the impact sickle cell has on your personal life, work and day-to-day can spark a bigger conversation for change. It may help to
keep a diary or use a diary app
to keep track of pain or your experiences with sickle cell care.
What Can You Do?
Identifying the ways in which sickle cell may impact your mental health can also help you spark better, more informed conversations with your family, friends, peers, employers, coworkers, and care team. Support can come from a lot of different ways, whether it's sharing your thoughts within your community or connecting with
sickle cell organizations
. Sharing your feelings may help you navigate sickle cell, whether you're a patient or a caregiver.
Take a short quiz to see how sickle cell impacts you
.